Home
»
Our Products
» Pre-Filters (For Air Washer & AHU)
Pre-Filters (For Air Washer & AHU)
We are manufacturing metallic air filters of viscous type of frames like Galvanized Iron wire mesh and Galvanized Iron Frame. Filters used in double skin air handling units and air washers are fabricated out of aluminium sheet frame and aluminium wire mesh.

Pre filters are primary stage of filters used to arrest large dust particles of size less than 10 micron and rubber, dirt, sand etc from atmospheric air. We use MS, aluminum; S.S and G.I to make the body of Pre filter according to customer's requirement. This filter are used in any air handling application. The Pre-Filter is in demand in both the national and international markets for its brilliant performance. We are among the reliable Pre Air Filters Manufacturers and Suppliers in India.

Special units are designed for removing Odor with Carbon activated filter or Charcoal granules. We have units to maintain positive pressure in clean areas like Hospitals, Laboratories, Industries and even Residences. Since we have our in-house sheet Metal fabrication & design section we can deliver almost any unit as desired by our client. Airmake Cooling System Units are also used for pharma Industry for Ventilation purpose.

Filters are available in two ranges. Rough filters & fine filters. Fine filters are for removal of particles down to 5 microns having an efficiency of 99.9% and rough filters for removal of particles down to 10-20 microns having an efficiency of 85% to 95%.Media & Support:- Superior quality non oven synthetic filter media is sandwiched between HDPE/ Needle punched media pleated for extended surface area. To eliminate the possibility of dirty air bypass the media pack is securely bonded to the periphery of the enclosure frame using epoxy hardener.
Construction Feature-
Pre filters are normally available only in G.I. construction. Frames are spray painted with synthetic enamel paints. If required aluminum frames can be supplied. Filters are available in any size and thickness from 25mm to 300 mm and can be used from fan coil units to Air-Handling units.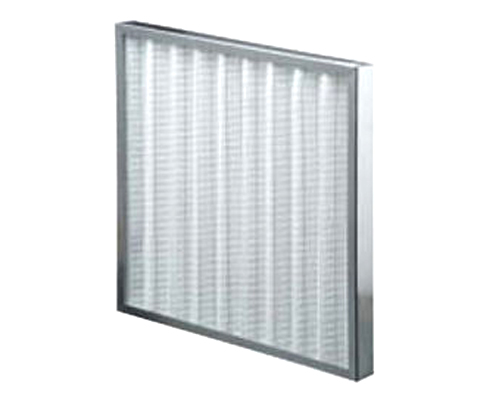 Air Filtration
Air filteration upto 20 microns dust particles is achievable in these kinds of filters.
Construction
Pre-filter are available in 5 layers of galvanized Iron or Aluminium wiremesh and 2 layers of expanded metal.