Home
»
Our Products
» Jet Nozzels & Jet Diffusers
Jet Nozzels & Jet Diffusers
This type of spotted diffuser is ideally suited for predictable directional control of conditioned air within large spaces such as malls, exhibit halls, sport arena industrial and manufacturing facilities and large office building entrances. Air direction is adjusted by swivel movement of Jet Nozzle/Spot diffusion. Air supply into large spaces like Airports, Cinema theaters, Shopping malls and in high roofing industries. This spot diffuser is specially designed to achieve a long throw in Air-conditioning, Ventilating and heating systems.

External ring with a flat circular and spherical inner nozzle manually adjustable to any desired angle within + 40º . Using the mechnical principle of ball and socket joint made of aluminium and available in different sizes respectively with or without dampers.

Spot Diffusers / Jet nozzles diffuser is made up of high quality aluminium. Its made up of high quality aluminium. Both designed use for in large areas long throw such as sport centres,theatres, airport,entertainment industrial area. Its suitable for air conditioning evaporate cooling, ventilation application etc.
Salient Features
Facilitates high air quantities and long throws.
Eye ball assembly smoothly rotates in fixed mounting flange- seals prevent leakage.
Clear anodize finish for years of corossion-resistant performance.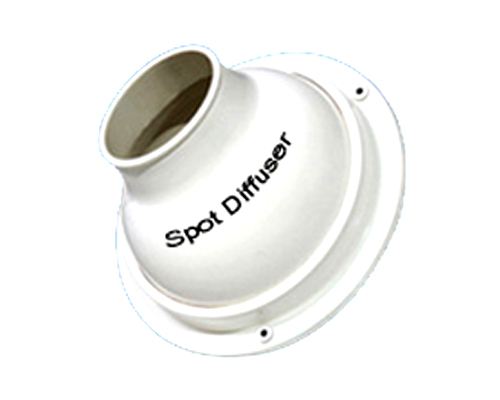 Construction
Aluminium spinnings are secured to flange which is fixed to duct collar or suitable frame.
Finish
Epoxy polyester powder coated ivory off white.
Natural anodised.